Have you ever wanted to have a late night snack because you felt really hungry in the middle of the night?

Whether you are feeling lazy or don't have enough time to cook, Sapporo Ichiban miso flavor is up to feed your craving. 
(I don't know why, but when I am hungry at night, I only want to have instant noodles, not a bag of chips, a piece of steak, or popcorn. Do you know why?)
It is my favourite fallback comfort food. It's easy to prepare and filling, so it is perfect as a late night night snack.
Bang!
If you go on a long trip, they are great to bring since they are light weight, easy to cook, convenient and very tasty. 
Sounds good?
Let's take a look today at:
Sapporo Ichiban's Miso Ramen
Sapporo Ichiban is a brand name held by Sanyo Foods, which was founded as Fujiseimen in 1953. 
Believe it or not, this company, ironically, doesn't have any office or factory in Sapporo.
Fact is:
The president of Sanyo Foods, Takeshi Ida named the noodles brand name, Sapporo Ichiban in 1961 because he was impressed by the taste of Sapporo ramen when he traveled to Hokkaido.
Did you know that?
This miso flavor debuted in store in 1968.
It is a classic instant ramen, which has excellent flavor.
Let's dig in...
Each value pack comes with 5 individually wrapped packets
Beautiful miso-colored packaging
Let's open one pack
Square-shaped noodles
Unlike the Roah series, these do not have brown grainy specks on them.
Which means, they are not made from whole wheat flour.
Smooth noodles - characteristics of fried noodles.
This package has two flavor packets. One is a miso soup base...
... the other packet is shichimi togarashi (hot peppers).
It gives this instant noodles a bit of spice.
-----------
Cooking Directions (from the package):
1. In a small pot, bring 2 cups (500ml) of water to a boil. 
2. Add noodles, breaking it up if desired. 
3. Cook for 3 minutes, stirring occasionally.
4. Remove from heat and stir in soup base packet.
ENJOY! 
Optional: Try adding an egg, vegetables, and meat as desired. 
-------------

Broth ★★★★☆
The taste of this miso flavor will linger in your mouth for hours after you finish eating these soup noodles because the broth is very tasty. 
Trust me.
The spice packets add a kick to this savory and umami bliss of soup. This broth pairs well with many kinds of toppings. I recommend putting a lot of vegetables.
Let's be honest...
The miso taste is mild and light, so you may feel like it doesn't taste like regular miso soup. But you can enjoy this broth with the noodles, as I feel like they go well together.
But know this, Sapporo Ichiban miso flavor does not taste like miso ramen from a seasoned ramen shop. 
But, stay with me here...
If you are looking for the taste of miso ramen from a restaurant, here is a quick and easy tip:
Put some fresh miso paste into the soup.

Noodles ★★★★☆
It has a good flavor and has the characteristic chewiness of fried instant noodles. 
In fact, they have a lot more bite than the usual soggy ones. Very smooth and a true comfort food.

Toppings ★☆☆☆☆

There is a spice packet for sprinkling on top of the ramen. If you use it, the broth will have a bit of a kick to it.
With this spice packet, the noodles taste good, but additional toppings make it great!
But wait – there're toppings that I recommend. 
They will make your Sapporo Ichiban Noodles a high quality meal that you would not imagine came from a dried instant noodles package.
Protein Options
Ham
Bacon
Chashu
Ajitama
Pork
Proscuitto
Vegetable Options
Bean sprout
Cabbage
Garlic
Green Onion
Nappa
Maitake
Leek
Flavour Enhancers
White pepper
Sesame Oil
Butter
Pepper
Miso

My Thoughts Overall ★★★★☆
Trust me. It's worth it.
It is an affordable option, that does not skimp out on quality.
If you like instant noodles, this is one step up from regular cup noodles.
Do you want to try a new flavor?
If you are looking for break from the beef, pork, chicken or oriental flavor noodles, but you don't want to raise your budget, these noodles are the perfect choice for you.
It has a very long shelf life, so it makes storing these noodle packages much easier.
Imagine eating these yummy noodles for lunch or midnight snack. They are great to stock up on in your cupboard for emergency situations, like snow days!
Ramen Lovers: Click below to bring some home today!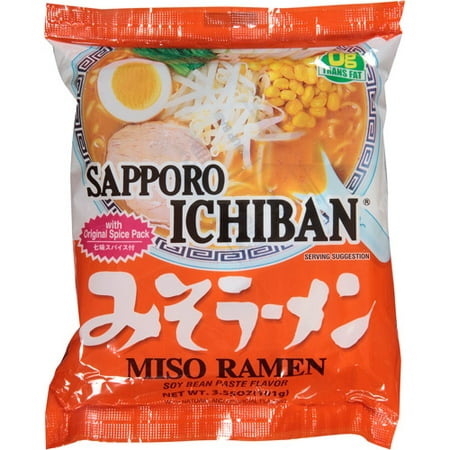 ------------
Nutrition Facts (from the packaging)
Serving Size 1 package
Serving Per Container 1
Calories 460
Total Fat 19g
Saturated Fats 9g
Trans Fat 0g
Cholesterol 0g
Sodium 1,820mg
Total Carbohydrate 62g
Dietary Fibers 4g
Sugars 0g
Protein 10g
Vitamin D 0%
Calcium 2%
Iron 10%
Potassium 4%